Myrtle I. (Morse) Douglas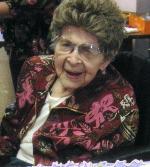 Shrewsbury- Myrtle I. (Morse) Douglas, 100, passed away on Saturday, September 19, 2009 surrounded by her loving family. Her husband, Clarence A. Douglas died in 1977. She leaves 2 daughters, Joan M. Wood of Yarmouth and Caroline E. Sherman of Shrewsbury; 8 grandchildrenóJoseph, Scott, and Melinda Sherman; Linda Wood-Boyle, Caroline Smith, and Clifton J. Wood; and Donna Lashua and Bette Moulton; a son-in-law, Leon Woodcock; and 9 great-grandchildren. Her step-daughter, Marion Woodcock, sister Mildred Morse; sons-in-law, Joseph Sherman III and Clifton J. Wood; and granddaughter, Laurie Wood predeceased her.
Myrtle was born on January 11, 1909 in Ashburnham, MA, daughter of Elsie (Smith) and Chester Morse. She was a 1928 graduate of Leominster High School. She and her husband were caretakers at The Oaks on Lincoln Street in Worcester for many years. Myrtle was a member of Wesley United Methodist Church for more than 70 years.