They are out there.....they're everywhere !

Looking for June A. Cabana


Class of '65 !!!
Class of '70 Reunion Planned
Class of '75 Reunion Planning
Our next meeting is in early April 2015, when we are hoping to finalize things. We are looking for a fall reunion. Similar to the past few we are keeping it simple, people seem to like the non-formal atmosphere.
I would encourage people to send pictures and whatever to me so I can post it. Would love to keep the interest going.
Paula (Price) Carroll PaulaC1213@gmail.com
UPDATE 10 April 2015
We have decided on the date and venue for our class reunion.
It is Saturday, October 24th and will be held at Luxury Box.
Scheduled Reunions:

The Leominster High School Class of 1984 will hold its 30th Class Reunion on Friday, Nov. 21 at the Columbia Tavern, 16 Rear Central St. (behind Auntie Ellenís Bakery), Leominster.

The reunion will run from 8 p.m. to 1 a.m. The cost is $20 per person. Music will be provided by DJ Mark Montaquila, and light fare will be served.


Please visit the reunion website at www.BlueDevils84.com to register and make payments. Payments will also be accepted at the door the night of the reunion.

For further information, please contact Karen Andrzejewski at KarenD19@gmail.com
or Lisa DiGeronimo-Cuddahy at LisaDiGeronimo@gmail.com
Class of '47 Reunion !!!
September 13, 2014 - 11 AM - 3 PM @ Apple Hill Farm & Country Club
Audrey (Fitzgerald) Johnson
(978) 582-5532 or aujean2@comcast.net
Thomas Bagley - (978) 534-4355
Sunday September 21, 2013
Four Points by Sheraton
The Leominster High School Class of 1949 will hold its 65th Reunion Saturday, Oct. 11th from noon to 4 p.m. at Barberís Crossing, 175 Leominster Rd. in Sterling.
To share information call:

Jean (Lynch) Flanagan at (978) 534-1602
Class of '54 Reunion !!!
The 60th Reunion on Saturday, Sept. 20 2014
On Saturday, Sept. 20, at the Double Tree Inn on Rt. 12 in Leominster, there
will be a 60th Class Reunion for the Leominster High School Class of 1954,
combined with the members and guests of the
LHS Classes of 1953, 1955, and
1956.
Leominster Double Tree Inn on Route 12,
Class of '63 Reunion !!!
To be held Saturday, September 21, 2013
Four Points Sheraton starting at 6 P.M.
from Linda Dolan LEDolan66@Yahoo.com
Class of '64 Reunion !!!
September 2014 Westminster Country Club
Diane Breault 978-537-0266 / DiLadyL@AOL.com
Class of '69 Reunion !!!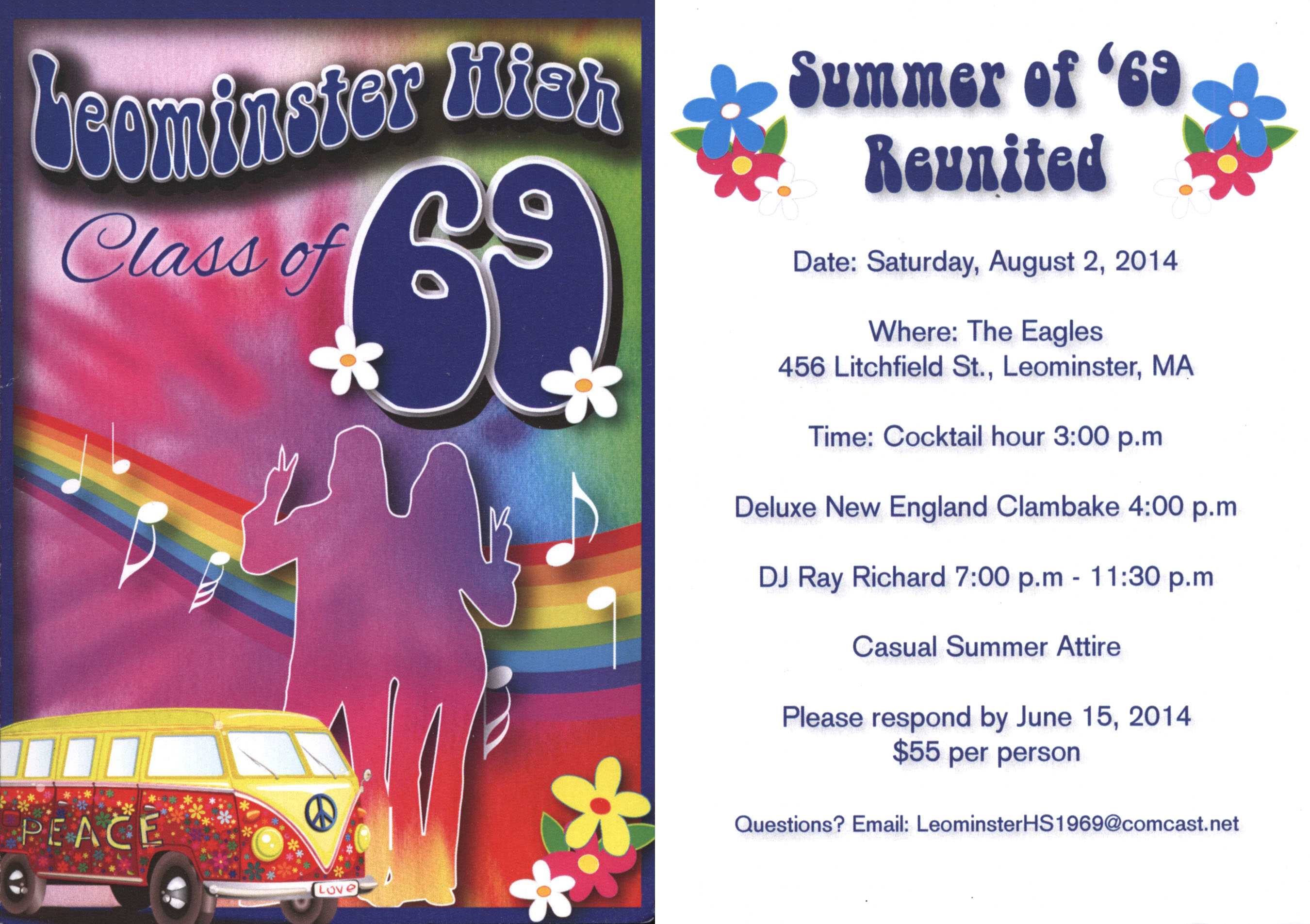 Class of '70 Reunion Planning !!!
First official meeting to plan our 45 yr Reunion will be Thursday, Oct 23, 2014
at 2 PM at Whitney Field Mall. It is located where the old Pewter Pot used to be.
Hope to see lots of you there.
Debbie (Tinker) Cardone LHSClassof70@aol.com
Hotels / Motels ????
w/ Links for maps
Four Points by Sheraton
99 Erdman Way
Leominster, MA 01453
978-534-9000

This is a full service hotel. AARP/AAA rate is $110 plus tax per night. Last September's group rate of $99 per night for a minimum of 5 rooms. More rooms can be acquired according to availability at the group rate. We can book for up to 3 days prior and 3 days after the event for a total of 7 days at the group rate. All rooms must be booked by mid-August to get this rate.

Wachusett Inn
9 Village Inn Rd
Westminster, MA 01473
978-874-3631

The Wachusett Inn is currently sold out, but has blocks of rooms saved for a wedding that will be released if not booked by early August. Their AARP/AAA rates range form $130-140 plus tax per night based on double occupancy, suites are $190 plus tax per night. They can't give us a group rate.

Super 8 Hotel
482 N Main St
Leominster, MA 01453-1814
978-537-2800

AARP/AAA is their best rate. They do not have a group rate. If people call 7 a.m. - 3 p.m. on Fri-Sat-Sun and ask for Hector, he will guarantee the AARP/AAA rate to anyone who mentions LHS Class of 1969 Reunion whether they have AARP/AAA membership or not. This is a clean and comfortable budget hotel. They offer a free continental breakfast, fee high speed internet, gym and pool. Rooms will be $67.68 including tax. If you choose this hotel, book ASAP to get the AARP/AAA rate.

SpringHill Suites

(by Marriott) Devens
27 Andrews Parkway
Devens, MA 01434
978-772-3030

Unwilling to quote prices or give any kind of group rate. She said people have to give her an AARP or AAA number for those rates.
PLEASE SEND PICTURES !!!!
This is a FREE Website for Alumni & Friends of Leominster High School.
Your Class has a Page on which YOU can write about Yourself and Post a Picture.
To JOIN, just EMAIL us YOUR Info & Picture (?) and We'll Post it on YOUR Class Page !!
Leominster High School Reunions Leominster High Reunions LHS Reunion Leominster High School Reunion LHS Reunion Leominster High yearbook High School Reunion High School Yearbook Leominster High School Leominster High School Reunions Leominster High Reunions LHS Reunion Leominster High School Reunion LHS Reunion Leominster High yearbook High School Reunion High School Yearbook Leominster High School Reunions Leominster High Reunions LHS Reunion Leominster High School Reunion LHS Reunion Leominster High yearbook High School Reunion High School Yearbook Leominster High School Reunions Leominster High Reunions LHS Reunion Leominster High School Reunion LHS Reunion Leominster High yearbook High School Reunion High School Yearbook Leominster High School Reunions Leominster High Reunions LHS Reunion Leominster High School Reunion LHS Reunion Leominster High yearbook High School Reunion High School Yearbook Leominster High School Reunions Leominster High Reunions LHS Reunion Leominster High School Reunion LHS Reunion Leominster High yearbook High School Reunion High School Yearbook Leominster High School Reunions Leominster High Reunions LHS Reunion Leominster High School Reunion LHS Reunion
Reunions Leominster High Reunions LHS Reunion Leominster High School Reunion LHS Leominster High Reunions Leominster High Reunions LHS Leominster High School Reunions Leominster High Reunions LHS Reunion Leominster High School Reunion LHS Reunion Leominster High yearbook High School Reunion High School Yearbook Reunion Leominster High School Reunion LHS Reunion Leominster High yearbook High School Reunion High School Yearbook Reunion Leominster High yearbook High School Reunion High School Yearbook Leominster High yearbook High School Reunion High School Yearbook LHS Class Reunion LHS Class
Reunion LHS Class Reunion LHS Class Reunion LHS Class Reunion LHS Class Reunion LHS Class Reunion LHS Class Reunion LHS Class Reunion LHS Class Reunion LHS Class Reunion LHS Class Reunion LHS Class Reunion LHS Class Reunion LHS Class Reunion LHS Class Reunion LHS Class Reunion LHS Class Reunion LHS Class Reunion LHS Class Reunion LHS Class Reunion LHS Class Reunion LHS Class Reunion
LHS Class Reunion LHS Class Reunion LHS Class Reunion LHS Class Reunion LHS Class Reunion LHS Class Reunion LHS Class Reunion LHS Class Reunion LHS Class Reunion LHS Class Reunion LHS Class Reunion LHS
Class Reunion LHS Class Reunion LHS Class Reunion LHS Class Reunion LHS Class Reunion LHS Class Reunion LHS Class Reunion LHS Class Reunion LHS Class Reunion LHS Class Reunion LHS Class Reunion LHS Class Reunion LHS Class Reunion LHS Class Reunion LHS Class Reunion LHS Class Reunion LHS Class Reunion LHS Class Reunion LHS Class Reunion LHS Class Reunion LHS Class Reunion LHS Class Reunion LHS Class Reunion LHS Class Reunion LHS Class Reunion LHS Class Reunion LHS Class Reunion LHS Class Reunion LHS Class Reunion LHS Class Reunion LHS Class Reunion LHS Class Reunion LHS Class Reunion LHS Class Reunion LHS Class Reunion LHS Class Reunion LHS Class Reunion LHS Class Reunion LHS Class Reunion