@ Leominster High.com
The Secret Page # 1
These are pictures I took while driving to
different service calls or my trips to Leominster. And I get paid, too!
Just ADDED a Sixth or Seventh PAGE!
( I'm Elderly so cut me some slack ! )
All the pictures are THUMBNAILS
2003 Alaskan Fishing Trip
August 2003 trip to Leominster for Family Reunion

Dick's Barbershop,
My brother Vinny
@ Jasper's Restaurant on Hamilton Street

Joanne and Alan Anderson
@ Chubby's Restaurant in Fitchburg

My brother Donnie w/ his
wife Sherry
@ My Sister Joyce's Anniversary Party

Steve does RIBS!
@ My Sister Joyce's Anniversary Party

My Sister Jodi, her daughter, Jessica
and HER daughter, Julianna!
@ My Sister Joyce's Anniversary Party

Tom & Susan Bisol w/
Joan & Jack McCumber
@ My Sister Joyce's Anniversary Party

First Prize for SHOES &
"Well Turned Ankles"
@ My Sister Joyce's Anniversary Party

Tom in a serious discussion w/ Steve
of RIB Preparation


My Cousin Noella and ME!

My brother Leon and his
daughter, Loren
This was a trip to Leominster for my Nephews' graduation on June 7 2003
Bighorn Sheep on I-70 near Georgetown, CO - May 3, 2003
Visiting Tom & Susan Bisol in August 2002
Laura and I visited Tom and Susan Bisol at her Mom's house at Spec Pond.
Her Mom, Joan McCumber, is an old friend from Hall Street. They were our next-door neighbors for years.
Joan cooked us a wonderful lunch and then Susan's brother Jack took us for a tour
of the pond as we reminisced about the others we grew up with at the pond.
It don't get any better than this!!!!
And Down the Road A'piece I found Jasper Chirco
Jasper's doing well ! I had the fried clams, Mary, and they were GREAT!!!!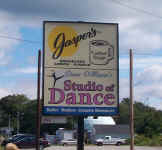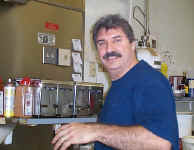 Jaspers Coffee Shop
192 Hamilton Street, Leominster, MA 01453
(978) 534-1699
Service Call @ Big Elk Meadows near Estes Park, CO
November 2002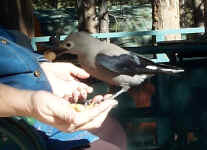 North of Fort Collins, CO June 2002

The Cows Do Come Home
June 14 2002 Trip Near Estes Park Some Geese and a Cobra !
June 11 2002 My Front Yard ... Slow Week - New Camera - My Cookie !
June 1 2002 Near Estes Park Colorado
Third Week of May 2002 - Bunnies are born - About 4" long.
First week of April 2002, near the Wyoming border.
These were taken on an Easterly trip to Simla, CO April 2002
These below were on a trip to Leadville, CO April 27, 2002