2009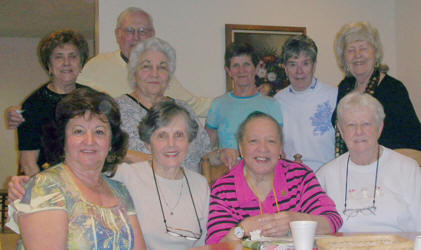 Front Judy Angelini, Maryanne Panagiotes, Mabel Milton, and Jean Tessier
Middle: Madeline Girouard, Nina Palmieri, Joanne Lanza, Theresa Caponi, and Pat Assimakopoulos
Back: Dick Gardner Class of 1953
Missing: were Joan McMackin and Janice Bernier.
Seated: Mabel Milton, David Larkin, Madeline (Perla) Girouard, Mary Ann (Imbriani) Panagiotes, Patricia (Philbin) Assimakopoulos, Janice (Santucci) Bernier.
Standing:Donald Malley, Theresa (Flannagan) Caponi, Joan (Algiers) McMackin, Jean (Bagley)Tessier, Nina (Ferrera) Palmieri, Judy (Pizzuti) Angelini, Dom Angelini, Joanne (Farrell) Lanza, John Mahan, and Paul Lister.