Geraldine (

Seaver

)

Remley

1917 - 2010

Geraldine (Seaver) Remley died in 2007.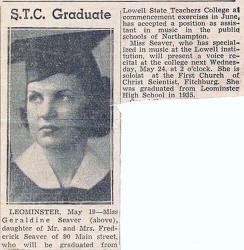 The article reads: "LEOMINSTER, May 19 -- Miss Geraldine Seaver (above), daughter of Mr. and Mrs. Frederick Seaver of 90 Main Street, who will be graduated from Lowell State Teachers College at commencement exercises in June, has accepted a position as assistant in music in the public schools of Northampton.

"Miss Seaver, who has specialized in music at the Lowell institution, will present a voice recital at the college next Wednesday, May 24, at 2 o'clock. She is soloist at First Church of Christ Scientist in Fitchburg.